Church Flood San Diego CA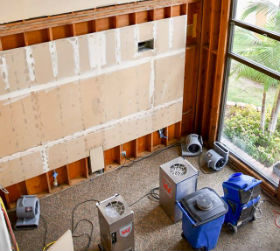 Having worked on several of these over the years, I can tell you that a church flood San Diego can be very devastating to both the building and the congregation.  Often a flood in a church building can go unnoticed for several hours or sometimes days intensifying the water damage that occurs.
How Do Church Buildings Get Flooded?
There are many ways that a flood can occur in a church building.  The five most common are water intrusion, toilet leaks or overflows, roof leaks, pipe leaks, and appliance failure.
Preventing Floods in Your Church Building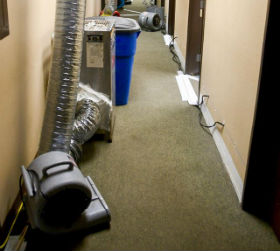 A preventive maintenance plan can reduce your risk of a church flood in San Diego.  Follow these steps to keep your building safe.
Check the perimeter of your building – Check entryways, and windows for any places where you might have water intrusion. All should be tightly sealed.  Be sure and check attics, basements and crawl spaces for signs of water entry, water damage, and mold.
Check your restrooms –  Make sure there are no areas where there is continued dampness or water on the floor. Look for discoloration on the ceilings and walls, check under the sink, and make sure that area is dry. Air out your restrooms to get rid of any excess moisture.
Clean your gutters regularly – Water flowing down from your roof in the wrong place can pool up and create intrusion issues.  Make sure your downspouts work properly and are taking water away from your church building.
Check pipe and vents on your roof – The boot around pipes and the collar around vents need to be checked and replaced if faulty.  Check your shingles for loose nails.  Have your roof inspected annually or after any major weather event.
Check your water bill and meter – Your water bill and water meter can give you a pretty good idea if you have a large leak. Also, purchase a smart leak detector device for your church building. It can detect the leak and warn you through an app-based notification.
Flush the water heater – In San Diego, where we have very hard water and calcium buildup it is strongly advised that the water heater be flushed at least once if not twice a year.  Doing this will help to alert you of any possible defects and a cleaner water heater will last much longer.
Check the hoses of your appliances – If you have a washing machine replace the water intake hose with a steel braided hose.  They hold up much better than a rubber hose and are not prone to crack.  Check your hoses on all other appliances such as dishwashers, refrigerators, and the condensation line hose on your air conditioner.
Following these steps will go a long way to preventing a church flood San Diego.
Mold Remediation
Whenever water damage occurs there is also a good chance of mold.  Make sure you check carefully for mold after a water event. It is a good idea to have professionals do this as they can find hidden mold behind the drywall or cabinets or under carpet pads.  Mold can be very destructive and can cause health issues for some people. It is best to have someone like Gold Coast Flood Restorations with experience working with churches and expert flood & mold specialists to help you with your water damage and mold removal issues.  call them at (619) 449-9611.
Serving San Diego and San Diego County for over 30 years with quality work and great service. We also service these cities – Chula Vista, El Cajon, La Mesa, Spring Valley, and Lakeside. Poway, Ramona, Alpine, Julian, Santee, Coronado, Imperial Beach, Pacific Beach, La Jolla, University City, Tierrasanta, Rancho Penasquitos, Rancho Bernardo, Rancho Santa Fe, Encinitas, Del Mar, Solana Beach, Leucadia, Sorrento Valley, Miramar, Mira Mesa, Scripps Ranch, Vista, Carlsbad, Oceanside, San Marcos, Lemon Grove, Bonita, Valley Center, Borrego Springs, Escondido, Fairbanks Ranch, Rancho San Diego 4S Ranch, Sabre Springs and Pine Valley.
Tags – church flood San Diego