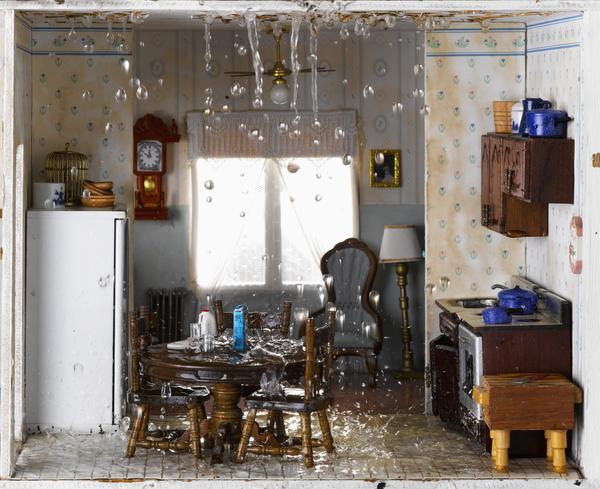 Have you discovered a roof leak after the recent rain? We have been working hard to help homeowners that have suffered San Diego roof leaks and water intrusions from the rain. Should this type of damage strike your home or business call Gold Coast Flood Restorations at 888-373-9243 for an evaluation of your property. Time is of the essence in dealing with this type of water damage. A timely dryout will prevent a mold problem. Let our expert technicians help you solve the problem at your home or business today.
If you have roof leaks, you need to fix them quickly, even if it does not bother you much or you're acquiring a new roof the following year. Over a short time, even small San Diego roof  leaks can cause major troubles, such as mold, deteriorated framing and also sheathing, destroyed insulation and ruined ceilings.
Are San Diego roof leaks covered by my homeowner's insurance?
The simple answer is that the water damage is but the roof itself may not be. Even if your roof is not damaged by an unintended exterior cause and simply ends up being old as well as worn out allowing water to leak inside creating water damage to your walls, ceilings, carpet, etc.; that harm IS a covered loss under the regular Homeowners (HO-3), Apartment as well as Commercial structure (Special type) policy subject to your deductible.
"Wear and also Tear" is a major exclusion in your Homeowners as well as other residential property policies which exclusion in this instance puts on the roof itself. A worn roof will NOT be covered because it must initially be harmed by "accidental direct physical loss". If the roof is ruined by a wind tornado, cyclone or tornado or other unintended reason then the roof itself would certainly be a covered loss.
If you have experienced water damage as a result of roof leaks call the flood restoration pros at Gold Coast Flood Restorations.  We will get your home restored back to normal in no time and can even help you with your insurance claim and bill your insurer.