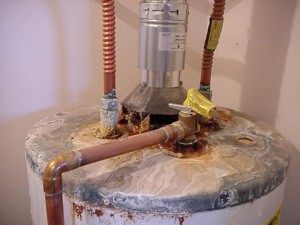 Have a Leaky Water Heater? You May Also Have Water Damage
Every San Diego home has a water heater, and they all leak. Maybe not all the time, and maybe not for a long time, but eventually your leaking water heater is going to fail, and when it does, the ensuing water damage can be catastrophic.
Your average tank-style water heater has a typical lifespan of about 10 years. Like any appliance, wear and tear and the inescapable effects of time degrade the connections or even the tank itself, and inevitably, something gives. In San Diego County, hard water can decrease the lifespan of your water even more.
Most commonly, connections where the cold-water supply line comes in or where the hot-water line goes out to begin to leak, often going unnoticed at first.
Check Regularly to Avoid Major Damage from a Leaking Water Heater
Like a spreading disease, slow leaks can be devastating in their own way. Long-term water heater leaks which go unnoticed can cause widespread damage as moisture saturates drywall and wicks outward from the source, creating a perfect environment for mold to cultivate. Some of the worst mold damage we have witnessed as a result of a slowly leaking hot water heater.
Think about your own home. Are you able to access or even see that water heater in your garage behind the pile of Disney princess bicycles and the unused camping gear that Uncle Melton bought you 4 Christmas ago? Would you even know if you are leaking a water heater?
Now think about the rooms which share a common wall with that ticking time bomb. Do your newly renovated kitchen and your beautiful new cabinets back up to the same wall your leaking water heater sits behind? Kitchen cabinetry is often the most costly casualty when a water heater leaks unknowingly for a long time. Entire walls 20 feet long can be affected as water seeps into sill plates and spreads outward, bringing with it the potential for devastating mold damage.
Ruptured Water Heater Tank
The other, and potentially more catastrophic, water heater failure is a complete rupture of the tank itself. The long-term stress of contracting and expanding with constant temperature variations (especially during seasons of weather change, such as Fall and Spring) can lead to a sudden rupture of the tank, without warning. If you have ever spilled a full pitcher of water at a dining table and been surprised as to how much water that container actually held as you're mopping it up from the floor, imagine how devastating 40-50 
gallons
being let loose in the middle of your home can be. This scenario carries a greater risk when leaking water heaters are located within the interior of the home, such as in a hallway closet. One average-sized water heater tank letting go in the middle of the night can literally
flood
entire home with 1-2 inches of water – trust us, we've seen it happen.
How to Prevent a Leaking Water Heater Flood in San Diego
So, now that we've terrified you into making an impromptu call to a
plumber
 to shop for tankless water heaters (not a bad idea), what is it you, the homeowner, can do to prevent such devastating water damage? The first and best action to take is to inspect and monitor your water heater frequently. Periodically check for moisture surrounding the plumbing connections, or for pooling water on the top of the tank or on the stand it rests on.
If you notice any water or even soggy drywall or the appearance of
mold
, don't hesitate to call your flood and mold specialists at Gold Coast Flood Restorations to come out and perform a moisture inspection before the damage gets worse. Quick response is the key to avoiding long-term and costly water or mold damage. If you are renovating your house, strongly consider relocating the leaking water heater to the garage where the potential for damage is lessened. Also consider placing the tank on a metal stand designed specifically for water heaters.
In the unfortunate but not implausible scenario that your water heater is leaking water and suddenly bursts, and you wake up to water-soaked slippers beneath your bed, immediately call Gold Coast, your local water damage experts. Our phones are answered 24/7, 365 days a year, and our trucks carry state-of-the-art extraction pumping systems to quickly remove standing water from your home. Gold Coast's friendly and experienced technicians can walk you through the insurance process and can get you on your way to restoring your home to its pre-loss state as quickly and efficiently as possible.
We Can Work with Your Insurance Company
Whether the leaking water heater damage is minor or severe, we are there for you every step of the way, and can work directly with your insurance carrier on your behalf, while keeping your best interests in mind – something the corporate insurance-preferred vendors who work for the insurance companies cannot claim. The insurance companies may want to force their big guns on you, but remember that in the State of California, you as the homeowner have the right to choose who performs work on your house – whether it's a corporate franchise or your local specialists – the choice is up to you, not your insurance carrier.
As you enjoy San Diego's beautiful weather, remember to keep a vigilant eye out for potential sources of water damage, and if you suspect that you are a victim of water damage as a result of a water heater failure, or any of the myriad of water damage sources, be sure to give
Gold Coast Flood Restorations
  your water damage and mold remediation specialists a call –
619-449-9611

Serving San Diego and San Diego County for over 30 years with quality work and great service. We also service these cities – Chula Vista, El Cajon, La Mesa, Spring Valley, and Lakeside, California. Poway, Ramona, Alpine, Julian, Santee, Coronado, Imperial Beach, Pacific Beach, La Jolla, University City, Tierrasanta, Rancho Penasquitos, Rancho Bernardo, Rancho Santa Fe, Encinitas, Del Mar, Solana Beach, Leucadia, Sorrento Valley, Miramar, Mira Mesa, Scripps Ranch, Vista, Carlsbad, Oceanside, San Marcos, Lemon Grove, Bonita, Valley Center, Borrego Springs, Escondido, Fairbanks Ranch, Rancho San Diego 4S Ranch, Sabre Springs and Pine Valley.