Water Removal San Diego
When a massive storm or flood hits your home, water can get into your home and cause a lot of damage. When this takes place, you'll need a top quality contractor to get that water extracted immediately. Stagnant water can cause a host of problems, all of which can be mitigated by having the best of the best get the water removed quickly and correctly. As your San Diego water damage restoration experts, we at Gold Coast Flood Restorations have the skills, expertise, and tools, to ensure that we're right contractor for the job
Experiencing a flood is a devastating incident. The caliber of the flood cleanup and restoration service you use can mean the difference between saving valuable possessions and losing them. All of our technicians truly care and will help you not only repair property damage, but also help you salvage any possessions that may have been damaged in the flood.
Water removal extracts the majority of the water from your home or property. By carrying out a thorough water removal, the professionals at Gold Coast Flood Restorations reduce the drying time and help to prevent mold and additional water damage. They use powerful pumps and truck-mounted vacuum units to swiftly extract hundreds or thousands of gallons of water from your property.
Emergency Water Removal
Our highly trained water damage restoration will begin the water removal process promptly. The amount of water will determine the equipment used to carry out the extraction and drying process. Our technicians may use powerful submersible pumps in addition to industrial strength, wet/dry vacuums. This step helps to reduce drying time and helps to prevent mold and secondary water damage.
Inspect the Carpet Pad and Carpet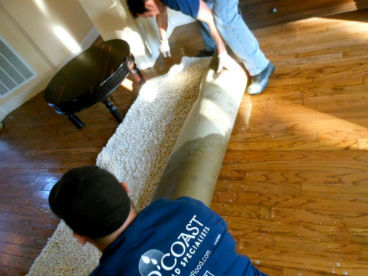 Gold Coast Flood Restoration specialists inspect the carpet and pad and determine if it should be removed to protect the subfloor.
Inspect Carpet Pad and Remove If Needed
Inspect Carpet and Remove If Needed
Water Removal Equipment
Moisture detectors, hygrometers, and other meters measure the extent of moisture saturation.
Infrared cameras may be used to find "hidden" water behind walls and ceilings.
Submersible and gas-powered pumps are used for continuous pumping of high-level water.
Truck-mounted and portable extraction units perform efficient water removal.