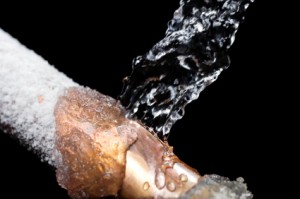 With the passing winter storm in San Diego we are currently seeing sub-freezing overnight temperatures in San Diego, CA causes burst pipes.  
With these very low overnight temperatures comes the chance of freezing or burst pipes causing water damage to homes across the County.  Some of the communities that are more prone to these overnight lows in the 20's are Alpine, Lakeside, Santee, El Cajon, La Mesa, Poway, Rancho Bernardo, San Diego and Ramona.
As water inside your burst pipes freezes, it expands.  A small amount of expansion is not a problem.  As the expansion increases, it stresses the solder joints that holds the pipes together to the point of leaking.
If the expansion continues, the copper pipe can actually burst and cause disastrous flooding and water damage to your home.  It is not only copper pipes that can cause water damage.  Your water heater is also very prone to leaking or bursting under extreme temperature changes.  Finally, cast iron sewer burst pipes under your raised foundation home are also very susceptible to cracking causing major sewer damage to the area under your home.
When water damage occurs it will be necessary to employ techniques such as water extraction and structural drying using airmovers, dehumidifiers and HEPA filtered air scrubbers to bring restoration to your home.  Water can damage drywall, carpet and hardwood flooring, cabinetry and personal contents.  If the sewer burst pipes under your home has cracked, special sewage pumping and decontamination procedures will be needed to restore the area.
Gold Coast Flood Restorations is a local family owned and operated contracting firm that specializes in water damage restoration and mold remediation.  We are licensed, bonded, insured, IICRC certified and highly ranked with the BBB and every major San Diego review site.  We have been serving the needs of San Diego families and businesses for over 25 years and are here for you now.
Time is of the essence when water damage occurs to your home.
Please call TODAY at 888-373-9243 or visit our website at Gold Coast Flood Restorations to schedule an inspection by one of our highly trained technicians if your Alpine, Lakeside, Santee, El Cajon, La Mesa, Poway, Rancho Bernardo, San Diego or Ramona home or business has suffered water damage.
We will hold your hand and walk you though the process of a homeowner's insurance claim, if the damage to your home is significant enough.  Rest assured that your home will be cared for as it was one of our own and you will receive the type of service that upholds our company motto – "Where Honesty and Integrity are NOT Forgotten"
Burst Pipes San Diego CA
Serving San Diego and San Diego County for over 30 years with quality work and great service. We also service these cities – Chula Vista, El Cajon, La Mesa, Spring Valley, and Lakeside. Poway, Ramona, Alpine, Julian, Santee, Coronado, Imperial Beach, Pacific Beach, La Jolla, University City, Tierrasanta, Rancho Penasquitos, Rancho Bernardo, Rancho Santa Fe, Encinitas, Del Mar, Solana Beach, Leucadia, Sorrento Valley, Miramar, Mira Mesa, Scripps Ranch, Vista, Carlsbad, Oceanside, San Marcos, Lemon Grove, Bonita, Valley Center, Borrego Springs, Escondido, Fairbanks Ranch, Rancho San Diego 4S Ranch, Sabre Springs and Pine Valley.