A water heater flood can be one of the most sudden and damaging things that can occur to a home.
It does not take long for floors, walls, and personal belongings to be ruined. Of course, situations like this are the reason that we have water heater flood insurance. The problem is it can be tough knowing where to begin repairing the damage. Also, time spent staying somewhere outside of your home is an additional expense and an inconvenience. That's why you need a good emergency flood restoration service on your contact list. If a situation like this comes up, you want to be prepared, so that life can get back to normal as fast as possible.
What are some common causes of water heater flood in San Diego?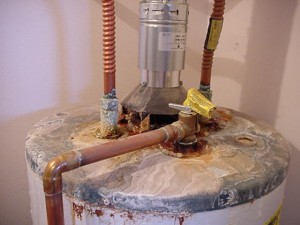 Obviously the weather can play a role. However, one of the most common causes of house floods is in your home right now. There may already be a slow leak, especially if a number of years have passed since you've checked on it. What is the culprit? It is your water heater.
Most people recognize that water heaters needs to be changed out every ten years or so. Rather than taking a chance though, you should really have your water heater somewhere that you can check on it regularly. Some make the mistake of hiding it behind a fake wall. If you want it out of site for cosmetic reasons, make sure you have easy access, and check it regularly.
What could cause a water heater flood ?
A common problem is water heaters going bad due to temperature changes. Extreme climate changes can weaken the lines that bring in cold water and send out the hot water. These are the two places that water heaters most commonly fail. Make sure the area where your water heater is does not experience extreme changes in temperature throughout the year.
Another problem area causing water heater leaks are rusty bottoms inside the water tank. Water heaters must be drained and flushed annually. Lack of this crucial regular maintenance can cause sediment to accumulate inside the water tank. This sediment then causes rust and premature water heater failure in the internal integrity affecting its ability to hold water.
24 Hour Emergency Service
If you live in San Diego, Poway or anywhere or San Diego County California, you no doubt want to protect the investment you have made in your home. Keeping up your water heater and immediately repairing water leaks will help you to avoid a water heater flood.
If you have had water heater flooding, call us at (888) 373-9243.
Serving San Diego and San Diego County for over 30 years with quality work and great service. We also service these cities – Chula Vista, El Cajon, La Mesa, Spring Valley, and Lakeside. Poway, Ramona, Alpine, Julian, Santee, Coronado, Imperial Beach, Pacific Beach, La Jolla, University City, Tierrasanta, Rancho Penasquitos, Rancho Bernardo, Rancho Santa Fe, Encinitas, Del Mar, Solana Beach, Leucadia, Sorrento Valley, Miramar, Mira Mesa, Scripps Ranch, Vista, Carlsbad, Oceanside, San Marcos, Lemon Grove, Bonita, Valley Center, Borrego Springs, Escondido, Fairbanks Ranch, Rancho San Diego 4S Ranch, Sabre Springs and Pine Valley.