Tips on how to recover your water-damaged collections with mold:
A water-damaged collection with mold is quite hard to clean and recover. Active mold looks either fuzzy or slimy so do not attempt to remove active mold. On the other hand, dormant mold is dry and powdery.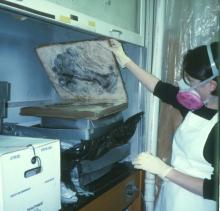 Stop mold outbreaks by improving environmental conditions. Humidity levels should be as low as possible below 50%. Use a dehumidifier. Low temperatures — below 68° F — are recommended.
Short exposure to sunlight and circulating air outdoors may help to dry moldy items more rapidly.
Note: There may be slight damage (fading or discoloration); use this treatment only with materials where some light damage is acceptable.
When the mold has become dormant through drying it can be removed, using a vacuum cleaner and/or a soft brush. After vacuuming, dispose of bag. Clean brushes to prevent spreading the mold spores. Safety precautions are particularly important in this stage.
Water damage to materials may be irreversible. The treatment of items of high monetary, historic or sentimental value should be referred to a conservator.
When cleaning up molds use Personal Protective Equipment:
 N, R, or P95 respirators
Non-vented goggles
Protective clothing (e.g., disposable coveralls) to prevent cross-contamination and skin contact with mold and chemicals.  For areas greater than 100 square feet, ensure that protective clothing covers the entire body including the head and feet.
Long gloves made of material that will protect the user from chemicals handled for surface cleaning
Consulting a Specialist
If you are unsure about how to clean an item, or if the item is expensive or of sentimental value, you may wish to consult a specialist. Specialists in furniture repair, restoration, painting, art restoration and conservation, carpet and rug cleaning, water damage, and fire or water restoration are commonly listed in phone books. Be sure to ask for and check references. Look for specialists who may be familiar with your water-damaged collection and are affiliated with professional organizations.
You may visit us here or call the Gold Coast Flood Restorations office today at 888-373-9243 to have a knowledgeable specialist and technician perform your water damage evaluation. We look forward to the opportunity of being able to serve you and we will take care of your water damage situation. Do you have a water-damaged collection that you would like to discuss?
Serving San Diego and San Diego County for over 30 years with quality work and great service. We also service these cities – Chula Vista, El Cajon, La Mesa, Spring Valley, and Lakeside. Poway, Ramona, Alpine, Julian, Santee, Coronado, Imperial Beach, Pacific Beach, La Jolla, University City, Tierrasanta, Rancho Penasquitos, Rancho Bernardo, Rancho Santa Fe, Encinitas, Del Mar, Solana Beach, Leucadia, Sorrento Valley, Miramar, Mira Mesa, Scripps Ranch, Vista, Carlsbad, Oceanside, San Marcos, Lemon Grove, Bonita, Valley Center, Borrego Springs, Escondido, Fairbanks Ranch, Rancho San Diego 4S Ranch, Sabre Springs and Pine Valley.