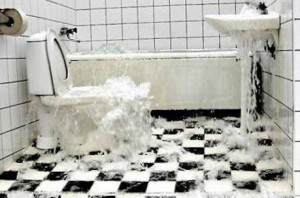 House Floods San Diego CA
In the restoration industry, the term "flood" is encompassing a much broader variety of water damage events. You do not need to be in a disaster zone with hurricane rains causing house floods in order to qualify as a victim of "flood" damage. Toilet backups, sink or tub overflows, plumbing failures, pipe breaks, house flooding from rain, etc. are much more common water damage occurrences that classify as San Diego household floods. Even a small amount of water damage that may seem innocuous at first can cause damage to your home in the form of future deterioration or mold growth.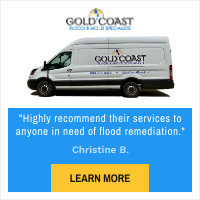 Mold WILL occur when building materials are not dried out in a rapid or professional manner. It is not a matter of "if", but "when". Proper diagnosis by a professional and certified San Diego water damage technician through the use of sensitive moisture meters is absolutely vital to detect damage patterns caused by moisture from any type of water damage event. Even a small flood in house can cause major water damage. For instance, if an upstairs bathtub overflows, it is very likely that water will affect not only the flooring and walls of the upstairs bathroom and surrounding rooms, but the downstairs ceiling and walls also. Water that travels down the walls may not be obvious to the homeowner and would require the use of special tools to detect and allow for proper dry-out techniques to be advised.
What to Do in a Flood at Home
In the event that you have suffered a "flood", of any magnitude, it is always best to have your home inspected by a certified San Diego water damage technician to positively identify affected areas for a proper structural dry-out. Better safe than sorry!
At Gold Coast Flood Restorations we specialize in both household floods and mold remediation and have been for over 30 years.  When you have a water damage emergency or a mold problem call our experienced professionals.