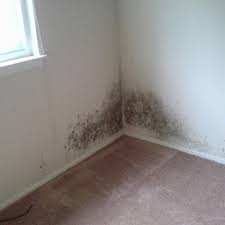 Flooding can lead to harmful mold growth on and underneath your home's flooring
Homeowners who experience even a small amount of water seeping into their homes either from flooding or a broken pipe should be concerned about mold.
It doesn't take much water for mold to grow and do a lot of harm.
"All it needs is a little moisture and a little dark space, and it can grow so quickly," contractor Danny Lipford  tells KTRK.
Homeowners who experience a double whammy of flooding and power outages from spring or summer storms are especially susceptible to harmful mold growth.
These situations can create warm, dark and humid environments — conditions in which mold and mildew thrive.
"It can be there and you won't know it at all," says Lipford, who owns Lipford Construction in Mobile, Alabama. "Especially very porous materials — carpet, carpet pad, and insulation that's in walls."
Prevent harmful mold growth by drying water damage quickly
The sooner you start cleaning up after water damage, the sooner you can stop mold from growing under your carpet.
The tools are simple: fans, bleach and cleaners.
Red Cross officials say many homeowners can get rid of the mold just fine after a flood, but it will require a bit of elbow grease.
"It's mainly a matter of scrubbing," says Ken Garcia with the Red Cross Tulsa chapter. "It's kind of getting down on your hands and knees and really scrubbing."
If you have had water damage in your home there is a very high probability that you will have mold too.  Your house could have hidden mold if you've had flooding or leaks. Leaks in pipes which run behind walls are an especially common cause of hidden mold. Another sign of hidden mold is if you can smell mold or you have allergic symptoms but you can't see any harmful mold growth.
If you suspect a harmful mold growth it is a good idea to have a mold inspection or mold assessment.  Call Gold Coast today at (858) 495-9133.
Serving San Diego and San Diego County for over 30 years with quality work and great service. We also service these cities – Chula Vista, El Cajon, La Mesa, Spring Valley, and Lakeside. Poway, Ramona, Alpine, Julian, Santee, Coronado, Imperial Beach, Pacific Beach, La Jolla, University City, Tierrasanta, Rancho Penasquitos, Rancho Bernardo, Rancho Santa Fe, Encinitas, Del Mar, Solana Beach, Leucadia, Sorrento Valley, Miramar, Mira Mesa, Scripps Ranch, Vista, Carlsbad, Oceanside, San Marcos, Lemon Grove, Bonita, Valley Center, Borrego Springs, Escondido, Fairbanks Ranch, Rancho San Diego 4S Ranch, Sabre Springs and Pine Valley.