SAN DIEGO WATER DAMAGE REPAIR SERVICES
Whether due to a natural disaster like a flood or storm or to a structural or mechanical failure such as a leaky roof or a busted washing machine hose in your house, water damage can be severe and it can interrupt the daily flow of your entire life. Water damage repair services help stop the damage, repair what is damaged, and help you get your life back to normal.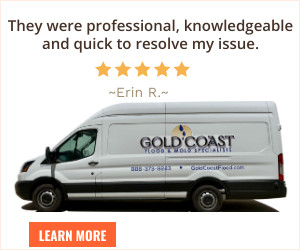 Why Hire a Professional Service?
So exactly what do water damage repair services do? It exceeds the obvious. The obvious would be that leather items would diminish, wood would warp, drywall would weaken and carpets might begin to smell or have to be appropriately dried. However, it exceeds that, which is why so many home and business owners hire specialists at Gold Coast Flood Restoration to handle all of the other water abatement and structural drying problems.
Wet or Moldy Carpets
When you employ professionals for water damage repair there are many things that their equipment can do when it comes to water damage repair work that the average citizen would not know to do. First off, their professional restoration team will dry out the carpets. They have large, commercial fans that will dry them out rapidly and efficiently to salvage what you can and prevent mold growth. Wet vacuums and pumps are used to dry all surfaces and remove water quickly for optimal water damage restoration.
Second, all carpet and padding are pulled up and restored whenever possible. This is done to prevent mold from developing and to identify whether the carpets remain in good enough condition, or if they must be replaced. It is also done to salvage and protect the floors underneath.
Technicians assess everything when performing water damage repair. They effectively assess crucial documents, works of art, furnishings, drapes, computers, appliances, and even all your personal belongings back to pre-water damage condition wherever possible.
Flood restoration crews clean and dehumidify the area. They disinfect all affected locations to kill mold, mildew, and bacteria and otherwise keep you safe and healthy long after services are completed. The main purpose of water damage restoration is to help you to get back to normal, minimizing disruption and putting everything back in order for you.
For Significant Water Damage Repair, Check Your Homeowner's Insurance
You are not required to use the contractors that your insurance company chooses for you.  Our company is very experienced in working with insurance companies on the side of the homeowner and can help you get the most out of your insurance claim.
A High-Rated Service Company
At Gold Coast Flood Restorations, we provide the highest quality commercial and home water damage repair with a crew of qualified and top-notch specialists. We pride ourselves on quality, and we offer you all the very best innovations and the most seasoned personnel. Please call us for more information.
Serving San Diego and San Diego County for over 30 years with quality work and great service. We also service these cities – Chula Vista, El Cajon, La Mesa, Spring Valley, and Lakeside, California. Poway, Ramona, Alpine, Julian, Santee, Coronado, Imperial Beach, Pacific Beach, La Jolla, University City, Tierrasanta, Rancho Penasquitos, Rancho Bernardo, Rancho Santa Fe, Encinitas, Del Mar, Solana Beach, Leucadia, Sorrento Valley, Miramar, Mira Mesa, Scripps Ranch, Vista, Carlsbad, Oceanside, San Marcos, Lemon Grove, Bonita, Valley Center, Borrego Springs, Escondido, Fairbanks Ranch, Rancho San Diego 4S Ranch, Sabre Springs and Pine Valley.