11 San Diego Wildfires Tips You Need to Know After Smoke or Fire Have Damaged Your Home
FOR IMMEDIATE RELEASE
PRLog (Press Release) – May 15, 2014 – SAN DIEGO — With unseasonably hot, dry, and windy weather, San Diego has once again suffered a catastrophic wildfire event. Thousands have been evacuated, dozens of homes have been destroyed and over 9,100 acres have been burned as these wildfires continue to rage.
The region is bone dry after months of absent rainfall and above-average temperatures. San Diego and all of Southern California are likely to live with this danger for several more months as the immediate precipitation forecast is bleak.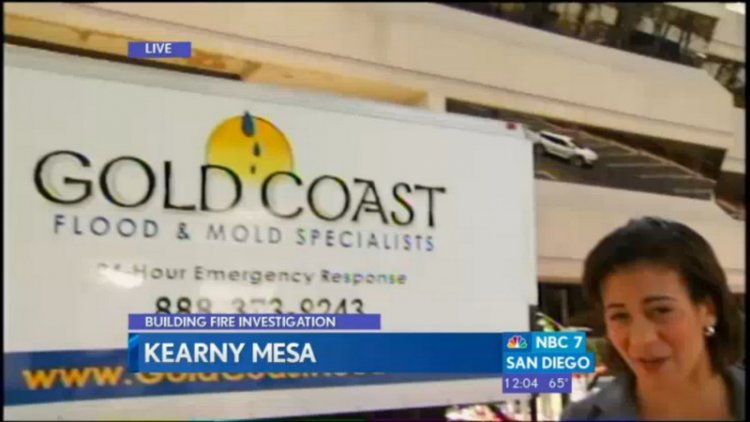 Now that the immediate fire damage begins to subside as fire crews gain control of the multiple San Diego wildfires, the recovery and restoration process begins. Even homes that thankfully did not burn or suffer direct fire damage will have a high likelihood of smoke damage.  Gold Coast Flood Restorations, the local San Diego fire and water damage experts, is available 24/7 to assist homeowners and offers these tips for anyone who has sustained smoke or fire damage in San Diego County:
1. Do not go back to your home until it is absolutely safe and emergency response crews have told you it is safe.
2. Upon entering your house be very mindful of any potential electrical hazards or wet areas.
3. Assess your home's damage – soot, ash, charring, smoke, odor, and water are types of damage you may find, but also understand that smoke and water damage may not be immediately visible.
4. Be aware that soot and smoke can leave a residue on walls and just about everything.  There may also be residue from fire extinguishers.
5. Don't attempt to wash any walls, shampoo carpet, or clean upholstery without contacting a professional.
6. Open all doors and windows if possible and let fresh air circulate – if the outdoor air quality has improved.
7. Wear a protective mask to keep from breathing in chemical particles and other particles.
8. Change your HVAC filter.
9. If water was used to put out flames, be vigilant for signs of water damage. Water damage, if left unmitigated, can lead to mold contamination which may become a bigger and costlier problem than fire damage.
10. Call a professional wildfire and water damage restoration company to assess your home.
11. Call your insurance company.  Keep in mind that California homeowners are not at all required to use the professionals recommended by the insurance carrier. You will often receive better quality service by choosing a San Diego fire and water damage professional who will work with the insurance carrier while still keeping your best interests in mind – this is something the insurance carrier's preferred vendor may not make a priority.
Inspect Your Home
Homes within the vicinity of large wildfires should be inspected by professional restoration crews after the immediate danger of fire has passed. Even without any burn or direct fire damage, smoke damage to structures can cost thousands of dollars to mitigate properly. Attic insulation and soft furnishings are typically the most susceptible areas and items within a home. Highly specialized techniques are required to properly remove soot and smoke residue from structural building materials and contents in order to prevent permanent damage or lingering effects.
What Home Insurance May Cover
The good news is that homeowner's insurance commonly covers fire and smoke damage from these types of events. Since major insurance carriers will assign claimants to one of their preferred vendors who may be overwhelmed during a natural disaster like a wildfire, it usually behooves homeowners to research and hire a certified and reputable fire and water damage restoration provider of their choice, who will work with their insurance company, but on their behalf.
"We just want to make sure people know we are here to help them get through this very tough time,"  says Joe Colombo, CEO of Gold Coast Flood Restorations.
Serving San Diego for over 35 years – Gold Coast Flood Restorations
"We have been serving this area for over 35 years and we know many have been affected by this latest disaster.  We wish and pray for the safety of everyone in the paths of these wildfires."
Serving San Diego and San Diego County for over 30 years with quality work and great service. We also service these cities – Chula Vista, El Cajon, La Mesa, Spring Valley, and Lakeside. Poway, Ramona, Alpine, Julian, Santee, Coronado, Imperial Beach, Pacific Beach, La Jolla, University City, Tierrasanta, Rancho Penasquitos, Rancho Bernardo, Rancho Santa Fe, Encinitas, Del Mar, Solana Beach, Leucadia, Sorrento Valley, Miramar, Mira Mesa, Scripps Ranch, Vista, Carlsbad, Oceanside, San Marcos, Lemon Grove, Bonita, Valley Center, Borrego Springs, Escondido, Fairbanks Ranch, Rancho San Diego 4S Ranch, Sabre Springs and Pine Valley.