When you experience a home flood, your first impulse may be to dry and treat your own property. However, it is usually wiser to call property restoration experts, who specialize in water damage restoration and property restoration in San Diego, CA. Professionals, such as Gold Coast Flood Restoration make your life much easier and help keep you healthier with services that include:
Property Restoration Services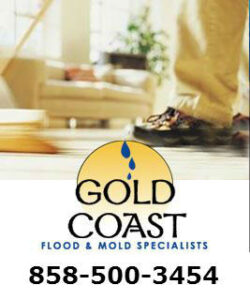 FAST EXTRACTION: When you give us a call, our experts for water removal in San Diego, CA will respond immediately. Full-service professionals, such as Gold Coast Flood Restoration, deliver 24/7 response. They will evaluate the type of flooding you have, and determine how contaminated the water is. Any standing water can grow bacteria very quickly, but sewage presents unique problems and severe health hazards. Technicians assess the risk, and use the safest, most efficient methods to get rid of excess water.
DRYING: Our professionals have the training and tools to suit the correct drying methods for each situation. They will typically bring in heavy-duty fans and other equipment that ensues your home's floors, walls, attics, and other areas are dried. They will usually destroy carpet padding that has been affected by polluted water, and may remove baseboards, to hasten drying.
MOLD REMOVAL: Water damage typically causes an unpleasant, musty odor. That is an indication that harmful mold has started to grow. When left unchecked, the fungus can spread out via spores, and be circulated through your home's air ducts. This can irritate allergies and cause breathing problems. As a result, our specialists will include mold inspections. They will not only search for growth caused by recent water damage, but will also search for other sources of moisture where mold can flourish such as dampness in crawlspaces, pipe leaks, foundation dampness, and more. They can remove the fungus, treat affected areas, and take steps to prevent a re-occurrence.
PROPERTY RESTORATION: Our water damage experts also offer property restoration services, and can often bill your insurance company directly. Our certified technicians will restore the structural damage to your home. We often work with other craftsmen, who are specialists in restoring furniture, draperies, carpeting, art, and more, to its original condition.
It is best to call the property restoration specialists experts at Gold Coast Flood Restorations when you have a flood, since they offer fast, 24/7 help. Their services include quick removal of excess water and complete drying, as well as mold inspections, removal and treatments. They will restore your property to its original condition.
Serving San Diego and San Diego County for over 30 years with quality work and great service. We also service these cities – Chula Vista, El Cajon, La Mesa, Spring Valley, and Lakeside. Poway, Ramona, Alpine, Julian, Santee, Coronado, Imperial Beach, Pacific Beach, La Jolla, University City, Tierrasanta, Rancho Penasquitos, Rancho Bernardo, Rancho Santa Fe, Encinitas, Del Mar, Solana Beach, Leucadia, Sorrento Valley, Miramar, Mira Mesa, Scripps Ranch, Vista, Carlsbad, Oceanside, San Marcos, Lemon Grove, Bonita, Valley Center, Borrego Springs, Escondido, Fairbanks Ranch, Rancho San Diego 4S Ranch, Sabre Springs and Pine Valley.