Mold Remediation Costs San Diego CA
Be aware that mold remediation costs are a necessary expense in protecting families from the risk of harmful health complications due to mold infestation. In San Diego sometimes mold remediation costs can range from $500 to $30,000 or more depending on the size of your home and the extent of the mold infestation.
The good news is that you can treat a small area for a small investment with some solid cleaning supplies.
Mold remediation costs will vary depending on the size of the area to be remediated. It can range from $500 to $30,000 and is difficult to identify until the entire scope of the infestation is considered. A mold remediation specialist will inspect ductwork, attic spaces, walls, and even crawlspaces.  If you have a good home insurance policy then it might cover most if not all the mold-related damages.
Other Mold Remediation Costs
Apart from the normal charges, there are some other costs that you will have to consider. For instance, you may find that the mold situation is so bad that it forces you to move out of your home during the mold remediation service. This means that you will have to make payments for a hotel or an apartment for the whole time that your place will be under mold treatment.
Mold Remediation Process
During the mold remediation removal process, it will be necessary for a team to use various techniques to remove any substance within the affected area that is unsalvageable. It will be necessary to inspect all systems and areas of the home or other structures for potential problems or damage. That's because the smallest of spores can travel through the air into the air vents and throughout the entire space. If mold spores are detected in the ventilation systems, the added work could increase the overall mold remediation costs.
There are many dangerous types of molds and some of them are very toxic to the body. When left in the ideal environment to grow, these toxin mold organisms can invade everything from the airways to the structural components of the building materials such as walls, flooring, and even furniture. When this happens, it can lead to a significant health risk for anyone living in the space.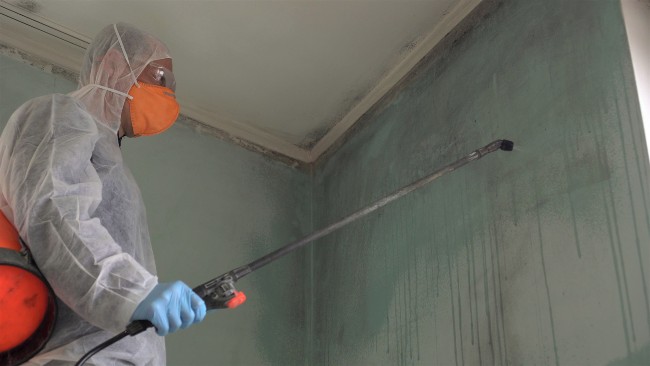 Water Damage and Mold from a Plumbing Leak
If the presence of mold in your home is the result of a plumbing leak then you might need to contract the services of a plumbing company if you want the problem to be eliminated completely. You will also have to pay for the mold remediation costs that are related to inspecting and testing the mold in the laboratories to know exactly how toxic they are.
You can't do it all yourself. Contact your insurance company then call a San Diego mold removal remediation professional. Make sure that you look for a professional mold remediation company that can come out and inspect the current condition and then offer the best possible treatment for it. It also helps if they are good at working with insurance companies. If you wish to know more then please contact the author of this article about San Diego mold remediation costs.
Call Gold Coast Flood Restorations
For more information on mold remediation costs and insurance, contact Joe Colombo, a certified mold removal specialist in San Diego, CA, and the owner of Gold Coast Flood Restorations. Call 888-373-9243 or email us at info@goldcoastflood.com
Serving San Diego and San Diego County for over 30 years with quality work and great service. We also service these cities – Chula Vista, El Cajon, La Mesa, Spring Valley, and Lakeside. Poway, Ramona, Alpine, Julian, Santee, Coronado, Imperial Beach, Pacific Beach, La Jolla, University City, Tierrasanta, Rancho Penasquitos, Rancho Bernardo, Rancho Santa Fe, Encinitas, Del Mar, Solana Beach, Leucadia, Sorrento Valley, Miramar, Mira Mesa, Scripps Ranch, Vista, Carlsbad, Oceanside, San Marcos, Lemon Grove, Bonita, Valley Center, Borrego Springs, Escondido, Fairbanks Ranch, Rancho San Diego 4S Ranch, Sabre Springs and Pine Valley.