Water damage cleanup can be a serious issue for homeowners. It can be worryingly deceptive, with damage often occurring without your knowledge. The issue is that concealed moisture will continue to cause harm to your property, spreading into the structural cavities and forming trapped pockets of saturation.
Water damage can occur due to many different factors and have varying impacts on your home. Depending on the severity of the damage and how quickly it can be remedied, it may be in your best interests to call in a professional, as attempting to fix the problem yourself could end up increasing the cost and hassle to you. A certified technician will apply the necessary restoration techniques to return your home to its former glory.
Identify the Source
The first step when undertaking any water damage cleanup is to determine the source of the excess water to prevent any further leaks. It is advised that you turn off your water supply until you can locate the origin of the water damage, to avoid increasing the problem. If the issue is left unresolved, it can result in a flood.
You are also advised to switch off the supply of electrical power to the area of your home that has been affected, as it could pose a hazard to your family and the people around you if the water reaches an electrical appliance. These simple steps should help to isolate the water damage and prevent the problem from escalating any further, allowing you to concentrate on the cleanup.
Your next step is to visually assess and document the damage, to make a note of any serious issues or items that will need replacing. This will also help you to decide whether it is safe to enter the area and begin water damage cleanup and restoration. Make a list of the furniture that will need to be replaced, items that must be thrown away, and if there is any structural damage. It is recommended that you take photographs of items that were affected, as these can be used as a form of evidence in the case of an insurance claim.
Dry out the Affected Area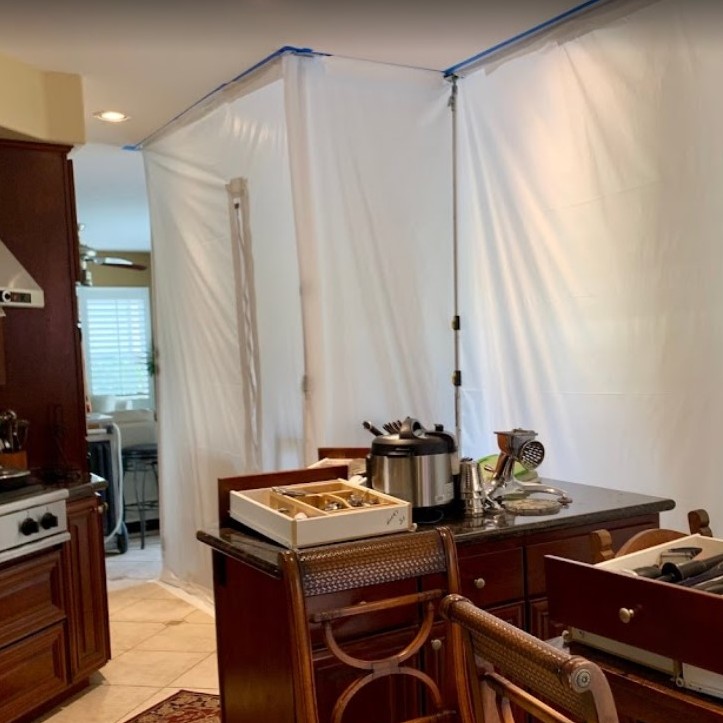 One of our water damage experts can help guide you through the process, making it easier to restore your home and ensuring the affected area is completely safe. Removing the water and starting to dry out the area is a large task.
Water removal will allow the affected part of your home to begin drying out, a process which can at first be aided by placing a dehumidifier near the area until a water damage specialist from Gold Coast Flood Restorations in San Diego, California can start work.
Drying out the affected area may take at least a few days, but it will depend on how much water there was initially in the area, and whereabouts in your home the damage is located. It is important to make sure the area is completely dry before you begin restoration work, to avoid future issues such as mold. Alongside this, try to increase the airflow into the room that has been damaged, to avoid creating conditions that could encourage the growth of mold and mildew.
Once you have begun the process of drying out the affected area in your home, you can start clearing out any water-damaged furniture and possessions. Many of these will be able to be restored or refurbished; however, any wooden surfaces, upholstered furniture, or porous items may suffer worse damage and need to be replaced. Other items, such as papers, ornaments, or valuables can be dried out over time. Ask one of our water damage professionals to evaluate which of your items can be restored and the most effective restoration method. This is most significant when it comes to carpets, tiling, and the state of the ceiling.
Restoring Structural Damage
In cases of water damage, the structure of your property in the affected area can sometimes be compromised. This is particularly prevalent if the damage is caused by your water heater or by a broken or frozen pipe. Our water damage specialists will be able to replace or restore the integrity of your pipes to avoid this kind of damage from happening again in the future.
Water damage isn't always caused by a major flood; it can be something as simple as having dripping water for a prolonged period of time, which you may not notice until the damage has already been done. While you may be able to undertake some of the cleanups yourself, if any structural damage has been done to your wall, ceilings, plumbing, or electrics, this should be performed by someone with experience in water damage.
The staff at Gold Coast Flood Restoration are fully trained and certified to identify any structural damage, dealing with this as safely as possible. The building materials used in your home or office can absorb some of the moisture, becoming warped and causing health problems. As this poses a greater risk, it is important to assess the damage from a safe distance and consult one of our water damage experts before attempting to carry out any form of cleanup.
Quick Water Damage Cleanup Service
Dealing with water damage is a time-consuming element of undertaking flood damage cleanup and can not only be costly but also carries a number of health and safety considerations. The damage must be dealt with as soon as possible in order to prevent conditions developing in the affected area that will encourage the growth of mold and mildew. These can grow very quickly and is difficult to get rid of.
The longer water damage is left untreated, the more harmful it can become to both your family and your property, especially if the problem is caused by an issue with your pipes. Be prepared for it to take longer than you expected for the room to completely dry out. Once dry, you can begin cleaning around the full area to remove any bacteria from the water that could have harmful effects. Redecorating will also be required around the damaged area after the cleanup is complete, to return the space to its previous state.
By seeking help from a staff member from Gold Coast Flood Restoration, you can be assured of quick and efficient service, for specialist water damage cleanup. We understand how important it is to provide a rapid response and deal with the issue to avoid escalating costs. We guarantee the reliable, safe reconstruction of all affected areas in your home from our water damage restoration services.
Water damage never waits; the longer it takes to get water damage cleanup underway the more damage it creates and the more your cleanup will cost you. Call Gold Coast Flood Restorations today at (888) 373-9243.
Serving San Diego and San Diego County for over 30 years with quality work and great service. We also service these cities – Chula Vista, El Cajon, La Mesa, Spring Valley, and Lakeside. Poway, Ramona, Alpine, Julian, Santee, Coronado, Imperial Beach, Pacific Beach, La Jolla, University City, Tierrasanta, Rancho Penasquitos, Rancho Bernardo, Rancho Santa Fe, Encinitas, Del Mar, Solana Beach, Leucadia, Sorrento Valley, Miramar, Mira Mesa, Scripps Ranch, Vista, Carlsbad, Oceanside, San Marcos, Lemon Grove, Bonita, Valley Center, Borrego Springs, Escondido, Fairbanks Ranch, Rancho San Diego 4S Ranch, Sabre Springs and Pine Valley.