Hidden Water Damage in your Home
Many times homeowners don't have any idea that there is hidden water damage in their home until the problem becomes too large to ignore. Other times, it is quite obvious, like after a flood or an accident. Much like smoke damage, this type of problem can be costly to repair, and most of the time can not be fixed without replacing what has sustained the damage. Homeowners may be covered for this, but not unless they have that specifically added to their insurance. Some think they are covered and they find out the hard way that they are not.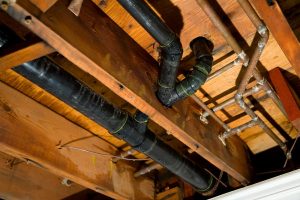 One of the most common causes of water damage is a leak in the home. Many times these are hidden. When water leaks out of a pipe behind the walls or even in the basement, the wood will warp and must be replaced. If drywall is soaked by hidden water damage, it will have to be replaced as well. If the water leak is missed for a long time, toxic mold may grow in the area, and that can be dangerous for those living in the house. If mold is found, a professional should be called in to do mold remediation as soon as possible. The family may even be advised to stay somewhere else until it can be fixed.
Water damage from flooding is not always obvious. Though a large flood is noticed, and the damage is very apparent, there are times when problems go unnoticed. Some basements will leak water during times of heavy rain, and that water will sit on the basement floor and the hidden water damage can be very destructive. Some go into their basements all of the time, and they will see the water damage right away. However, many people have no need to go down there might not see this coming. It can erode away or damage things like heaters and water heaters.
When water damage is found, a call to the insurance company should be one of the first things a person does. However, a homeowner may find that they are not covered like they thought they were. When that happens, the cost of repairing hidden water damage might rest solely on the shoulders of the homeowner. If you aren't sure if you are covered for flooding and other water damage, call your insurance company to find out and add this coverage if you think hidden water damage might be a problem with your home sometime in the future.
Serving San Diego and San Diego County for over 30 years with quality work and great service. We also service these cities – Chula Vista, El Cajon, La Mesa, Spring Valley, and Lakeside. Poway, Ramona, Alpine, Julian, Santee, Coronado, Imperial Beach, Pacific Beach, La Jolla, University City, Tierrasanta, Rancho Penasquitos, Rancho Bernardo, Rancho Santa Fe, Encinitas, Del Mar, Solana Beach, Leucadia, Sorrento Valley, Miramar, Mira Mesa, Scripps Ranch, Vista, Carlsbad, Oceanside, San Marcos, Lemon Grove, Bonita, Valley Center, Borrego Springs, Escondido, Fairbanks Ranch, Rancho San Diego 4S Ranch, Sabre Springs and Pine Valley.