Gold Coast Flood on NBC 7 News Kearny Mesa Fire Damage Cleanup and Water Damage Control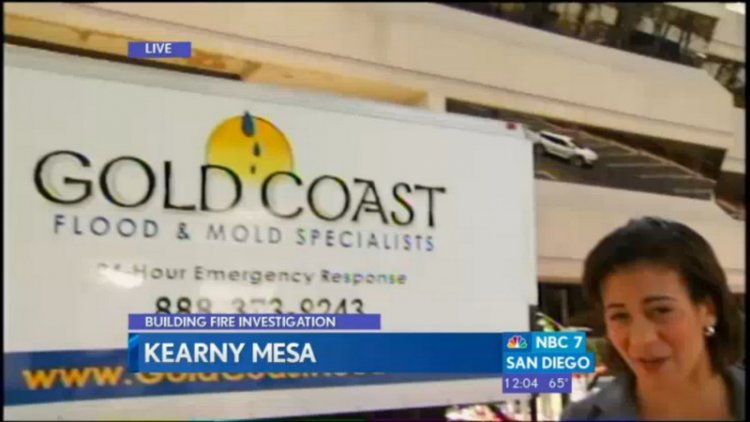 Gold Coast Flood Restorations was recently featured on the San Diego news at NBC channel 7. The San Diego water damage company came to emergency rescue to fire damage cleanup after fire trucks put out a fire in a commercial office building in the Kearney Mesa area.
Huge flooding is often a problem after firefighters put out a fire using their high pressure and very high volume water hoses. These fire hoses output over 60 gallons per minute of water. That's WAY more water than your garden hose on full blast. A fire hose creates a flood of massive proportions. And it takes massive powerful machinery to damage cleanup after a flood of water that size.
San Diego water damage company Gold Coast Flood Restorations has such equipment and crews capable of handing any situation, even a wide open fire hose set loose on a large office complex!
See the exciting video of San Diego water damage and fire damage cleanup Gold Coast Flood crews in action at the scene of the fire: http://youtu.be/UOr2bdNOCXg
Gold Coast Flood Restorations is on call for emergency flood service 24 hours a day, 7 days a week. Call Gold Coast Flood Restorations at 888-373-9243 in San Diego, CA. or contact us here.
Gold Coast Flood features great water damage restoration prices, applied structural drying, fire damage cleanup and does mold and mildew remediation. Connect with the famous San Diego water damage company on Facebook at https://www.facebook.com/sandiegowaterdamage
Serving San Diego and San Diego County for over 30 years with quality work and great service. We also service these cities – Chula Vista, El Cajon, La Mesa, Spring Valley, and Lakeside. Poway, Ramona, Alpine, Julian, Santee, Coronado, Imperial Beach, Pacific Beach, La Jolla, University City, Tierrasanta, Rancho Penasquitos, Rancho Bernardo, Rancho Santa Fe, Encinitas, Del Mar, Solana Beach, Leucadia, Sorrento Valley, Miramar, Mira Mesa, Scripps Ranch, Vista, Carlsbad, Oceanside, San Marcos, Lemon Grove, Bonita, Valley Center, Borrego Springs, Escondido, Fairbanks Ranch, Rancho San Diego 4S Ranch, Sabre Springs and Pine Valley.