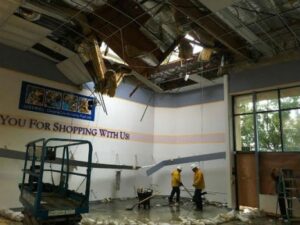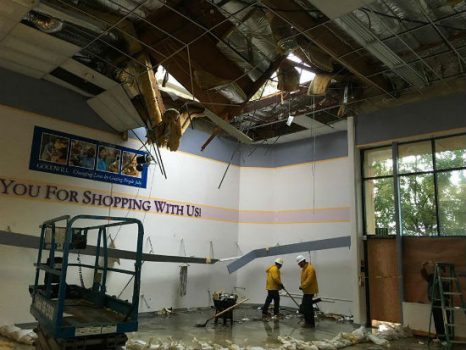 Although business owners face numerous problems after first opening their doors, one of the biggest physical threats is rising water. Over the course of this year, we've seen commercial water damage right across the country and it costs both time and money to resolve the problem.
Whether at home or in the office, it's quite scary watching as the water levels increase. More often than not, the water often brings debris, germs, and bacteria too so it isn't just a case of rainwater. After the water recedes, fast action is required since this may limit commercial water damage and put you in a position where office equipment and furniture can be salvaged. In some cases, even the flooring can be restorable; sadly, it's very rare for electrical equipment to survive water.
Commercial Water Damage Can Cause Mold
Of course, water brings another issue inside a building because it creates the right conditions for mold to grow if not treated correctly. Even if only an inch of water made it inside, water leads to damp areas and mold can start growing within days. As soon as the problem arises, mold can quickly get to the carpets, walls, furniture, and the flooring thus causing even more issues.
As you can see, water is a huge problem so we've decided to compile some superb tips for your business; most will also apply to homeowners. Despite these tips, we highly advise getting in contact with a professional mold removal service if the issue is present so keep this in mind.
Cleanup Tips for Businesses – Commercial Water Damage
Unplug All Electrical Goods – If water starts to enter the business, disconnect the power (assuming it's safe to do so). From here, remove any loose items such as furniture because you can prevent these from getting damaged beyond the point of repair. Finally, you may also have an opportunity to pull up carpets.
Remove the Water – If you've lost power and a wet/dry vacuum isn't available, try using buckets, mops, and towels instead. If you don't know whether the electrics have been affected, DO NOT risk electrical items but call a professional instead.
Dry the Area – Once the majority of water has gone from the building, it's still likely to be damp so dehumidifiers will be extremely useful. In addition to this, make sure the windows are open. While drywalls will most likely need replacing, exposed wood may be salvageable so don't be hasty in the cleanup attempt.
Disinfect to Prevent Mold – After killing the bacteria with disinfectant, prevent the growth of mold with an anti-mold product. At all times, make sure you're wearing a mask and get in contact with a professional service if mold is already starting to grow.
Remove Damaged Items – Finally, the waste management department of your city should tell you all you need to know about paints and other chemicals as well as electronics. For all safe materials, drop them into the dumpster but always create a list of damaged and ruined items for insurance purposes. If possible, remember to take photographs of the damaged items too since this will make it much easier to claim on the insurance later down the line; if you don't have proof of commercial water damage, the insurance company has leeway to escape from their responsibility.
Contact Gold Coast Flood Restorations for Commercial Water Damage
If you have time restrictions and want to get the business back up and running as soon as possible, feel free to contact our fantastic service. After first assessing the commercial water damage and discussing the task with you, we'll create a plan of action and remove the water while doing all we can to prevent mold at the same time!
Serving San Diego and San Diego County for over 30 years with quality work and great service. We also service these cities – Chula Vista, El Cajon, La Mesa, Spring Valley, and Lakeside. Poway, Ramona, Alpine, Julian, Santee, Coronado, Imperial Beach, Pacific Beach, La Jolla, University City, Tierrasanta, Rancho Penasquitos, Rancho Bernardo, Rancho Santa Fe, Encinitas, Del Mar, Solana Beach, Leucadia, Sorrento Valley, Miramar, Mira Mesa, Scripps Ranch, Vista, Carlsbad, Oceanside, San Marcos, Lemon Grove, Bonita, Valley Center, Borrego Springs, Escondido, Fairbanks Ranch, Rancho San Diego 4S Ranch, Sabre Springs and Pine Valley.