San Diego household mold contamination can manifest in many different ways from a plethora of sources. Anytime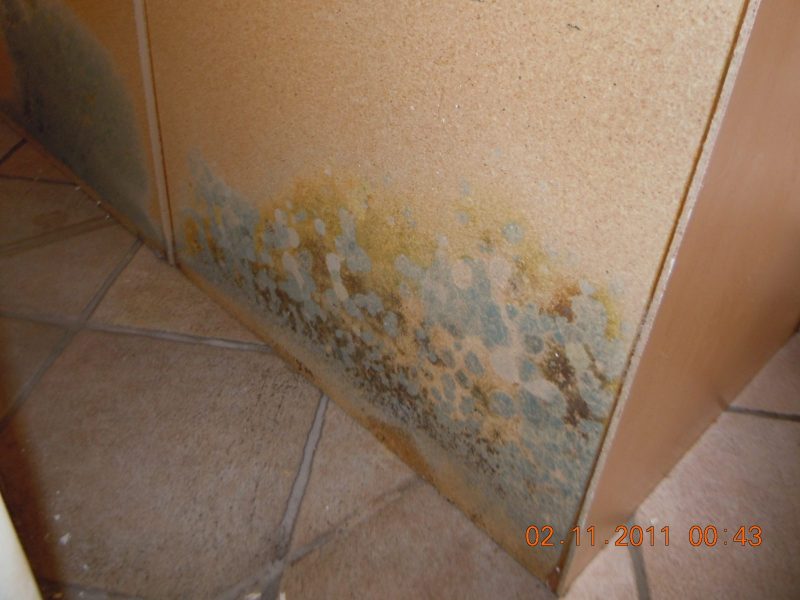 moisture or humidity levels within your home become elevated beyond acceptable levels, mold growth can manifest and cultivate. Any type of accidental water damage or intrusion, if left unmitigated and not dried out properly by a water damage restoration professional, will eventually cause mold to develop on any porous materials that have become wet. The best way to prevent mold growth in your home is to avoid the accumulation of moisture, either from accidental events or inadequate ventilation. Once you discover a san diego household mold problem in your home, either from a past leak that was not dried out completely, or from a buildup of humidity from poor ventilation, your first concern should not necessarily be the species or type of mold it may be. Because any type of mold growing in your home has the potential to pose health hazards, the first step should be to call a mold remediation professional to assess the extent of water and san diego household mold damage and provide an assessment for safe treatment.
Professional  San Diego Household Mold Remediation
The safe remediation of mold varies from a topical surface treatment, to removal of affected materials following industry best practices. Industry guidelines recommend that any mold damage affecting an area larger than 10 square feet should be handled by a san diego household mold remediation professional, and should not be attempted by a homeowner without training or experience. A professional san diego household mold remediation consists of a safe containment chamber being constructed with HEPA filtered negative air pressure generators to contain the spread of mold-spore containing dust while damaged materials are removed or treated. This step is vital to avoiding potentially dangerous cross-contamination of mold spores throughout your home. Be aware of any contractor who proposes to perform a san diego household mold removal service in your home without proper containment measures. Once the area is secure, any materials with visible mold contamination should be removed, bagged, and discarded. Demolition should continue for two feet in all directions to confirm the removal of all
mold damaged
materials. Once the moldy materials have been removed (including baseboards, drywall, insulation, carpet, etc), the remaining containment area should be sanitized with an anti-microbial agent. Most professionals do not recommend a bleach solution, which is not effective at killing mold roots, and also can cause a dangerous reaction with mold spores that can worsen air quality. Once the area has been completely wiped down and sanitized, HEPA filtered air scrubbers purify the remaining air within the containment chamber, and a third-party test can be performed to sample the air quality for lab analysis. If the air within the chamber shows a lower spore count than what is naturally occurring outside the home, then a certificate of successful remediation can be issued.
Due the potential for serious health consequences from improper removal of mold from your home, a professional evaluation of any mold or water damage is extremely important in order to properly assess and safely restore your home. Representing San Diego County, Gold Coast Flood Restorations – Water Damage and Mold Specialist – is the area's highest ranked provider of water damage and mold remediation services. A family-owned and operated business serving San Diego's homeowners and property managers for over 25 years, their single-location, non-franchised operation and customer service-oriented philosophy translates directly into a positive experience for the customer. With a stellar reputation in the local community, you can rest assured that they can identify, diagnose, and remediate any level of san diego household mold damage in your home – with integrity and unsurpassed professionalism. But don't take their word for it; check them out at 
Angieslist.com
 – the results speak for themselves!
Serving San Diego and San Diego County for over 30 years with quality work and great service. We also service these cities – Chula Vista, El Cajon, La Mesa, Spring Valley, and Lakeside. Poway, Ramona, Alpine, Julian, Santee, Coronado, Imperial Beach, Pacific Beach, La Jolla, University City, Tierrasanta, Rancho Penasquitos, Rancho Bernardo, Rancho Santa Fe, Encinitas, Del Mar, Solana Beach, Leucadia, Sorrento Valley, Miramar, Mira Mesa, Scripps Ranch, Vista, Carlsbad, Oceanside, San Marcos, Lemon Grove, Bonita, Valley Center, Borrego Springs, Escondido, Fairbanks Ranch, Rancho San Diego 4S Ranch, Sabre Springs and Pine Valley.