Call Gold Coast Flood Restorations for Kitchen Water Damage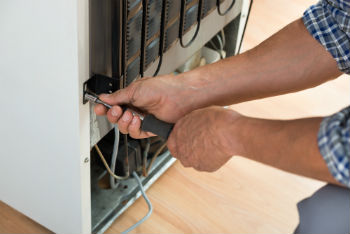 A common kitchen water damage problem is a burst water line leading to your refrigerator. When this happens, the volume of water that can spew onto your kitchen and spread throughout your house will shock you. If your refrigerator has a water dispenser or ice maker, it could potentially suffer from a water line leak, as for your ice maker or water dispenser to work it needs your home's water supply. The water supply connects to the ice maker or water dispenser by the refrigerator water line.
Out of all of the kitchen appliances in your home, the refrigerator is the hardest working. It's always running, 24 hours a day, with no break, keeping your food refrigerated. Refrigerators play a significant role, without them, a lot of the food that we buy would go off. So, when your refrigerator suffers from a leak or breaks down, it can be quite a troublesome encounter. If you are experiencing kitchen water damage, there are a few tips and tricks that you can follow so your refrigerator is back up and running as soon as possible.
What to do if your refrigerator water line leaks
If you have a water line leak, the first step is to locate your water line – this should be at the back of your fridge. Once you have pinpointed the leak, follow the steps below:
● First, you need to turn off the valve that allows your home's water supply to reach your refrigerator. The valve can either be located behind your refrigerator or underneath your kitchen sink. If the valve is behind your refrigerator, be careful when pulling the appliance away from the wall. Once the valve has been turned off, you then need to unplug your refrigerator from its electrical socket.
● Look out for the compression nut that secures the water intake valve to the supply line. You will need to loosen it by turning it anticlockwise with an adjustable wrench. After you loosen the nut, it needs to be removed, so the supply line is disconnected from the valve.
● Replace the old, leaking refrigerator water line with a new one. The material doesn't need to be the same, but you need to make sure that the dimensions and the length of the new water line are the same as your old one. The material choices for water lines are plastic, stainless steel and copper.
● Installing the new water line is pretty simple – you need to thread one end of the new line through the shut-off valve that is under your sink or behind your refrigerator and the other end into the water intake valve on the back of your refrigerator. Make sure that both of the connections are tight. Stainless steel water lines come with a rubber gasket built into them to prevent leaks. If you are using a copper or plastic water line, you need to remember to use a compression ring or sleeve on the end of the line to secure the compression nut.
● The last step is simply to turn your water supply back on and inspect for any leaks. If there is still some water dripping, tighten up the nuts a little more.
Water damage caused by a refrigerator water line leak
When a refrigerator water line fails and causes a leak, there's a chance that your home could suffer from water damage. If your water line is leaking, you will need to call in a water removal service as soon as possible to prevent any significant water damage. Below are some of the most common causes for kitchen water damage:
● An improper connection between the refrigerator and the line can cause a water line leak. When done incorrectly, water pressure will begin to build and eventually cause a flood in your kitchen.
● A refrigerator water line can also fail if you do not install it correctly. There is often some slack left when a water line is connected, so when you pull out the refrigerator, it doesn't pull on the line. If the slack is not correctly rolled up, there could potentially be a pinch in the line. When you have a pinch, it could lead to a leak – this is particularly the case with copper water lines.
Call Gold Coast Flood Restoration
Water damage never waits, the longer it takes to get kitchen water damage cleanup underway the more damage it creates and more your cleanup will cost you. Call Gold Coast Flood Restorations today at (888) 373-9243.
Serving San Diego and San Diego County for over 30 years with quality work and great service. We also service these cities – Chula Vista, El Cajon, La Mesa, Spring Valley, and Lakeside. Poway, Ramona, Alpine, Julian, Santee, Coronado, Imperial Beach, Pacific Beach, La Jolla, University City, Tierrasanta, Rancho Penasquitos, Rancho Bernardo, Rancho Santa Fe, Encinitas, Del Mar, Solana Beach, Leucadia, Sorrento Valley, Miramar, Mira Mesa, Scripps Ranch, Vista, Carlsbad, Oceanside, San Marcos, Lemon Grove, Bonita, Valley Center, Borrego Springs, Escondido, Fairbanks Ranch, Rancho San Diego 4S Ranch, Sabre Springs and Pine Valley.
Related articles across the web