If your house is flooded or damaged by a leak or overflow of water, the repairs can be extensive and expensive. Here's what you can do to reduce water damage.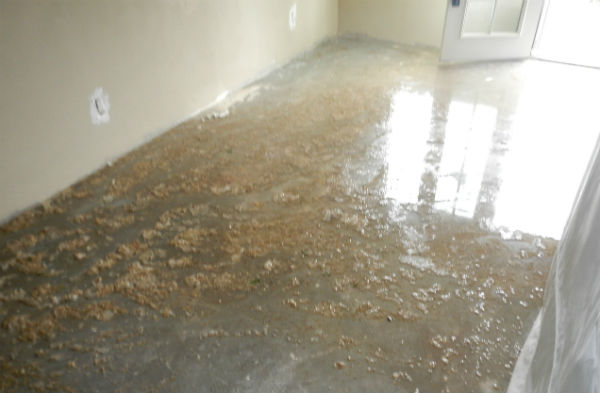 Shut off the water
It might seem obvious, but in a sodden moment of "Oh crap!" and a rush to soak it up, you might forget to locate the source of the leaking water and turn it off.
"For example, if you have a leaking appliance, a leaking water supply line, or fixture such as an overflowing toilet, look for the water shutoff valve to the appliance or fixture," says Mathew Farris, owner of highly rated Mammoth Restoration & Cleaning in Columbus, Ohio. "If you can't find that shutoff valve, look for the water main shutoff valve to the home."
Reduce Water Damage and Protect the Home
Once the water is shut off, your responsibility is to protect the home from further damage. Place buckets in rooms with active leaks, and move valuable and light furniture to a safe place. Use a tarp in the affected area if necessary.
"Quickly report the claim to the insurance company," says Geoff Bowen, co-owner of highly rated Bowen Agency in Durham, North Carolina. "The insurance company needs to be given the opportunity to send a water remediation company out ASAP in order to prevent mold growth and further damage."
Bowen adds that if it's after hours or a claims representative isn't available, homeowners should contact a water remediation company directly. "The insurance adjuster will thank you for this, and it's something you'll need to do even if the damage isn't covered by insurance," he says.
Call in a pro
Water can be sneaky — even after you mop it up, the effects often linger. "Any amount of water damage, minor or catastrophic, has a high probability of becoming a mold problem if not addressed properly," says Mike Belk, operations manager for highly rated Gold Coast Flood Restorations in Santee, California.
"If there's any chance at all that walls, cabinets, ceilings or porous flooring materials have been exposed to water, it's a good idea to call a specialist to perform a detailed moisture inspection," Belk says. "Even seemingly innocuous damage may be worse than you think. A small puddle of water in front of your dishwasher might seem minor, but it could be the tip of the iceberg."
For more information on how to reduce water damage in your home after a flood visit AngiesList.com