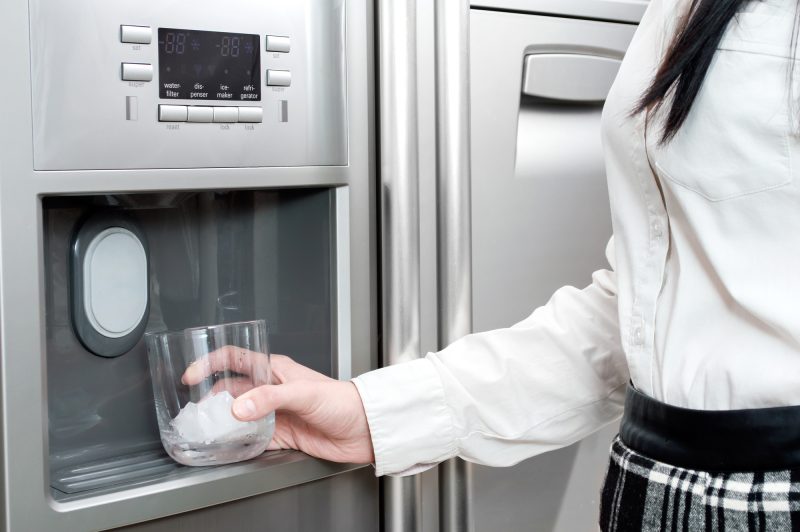 Ice Maker Water Damage Prevention Tips San Diego CA
As modern lives become more complicated and fast-paced, we expect that the equipment that we use is reliable and effortlessly performs its tasks in the way they are designed to. One of which is the common refrigerator ice maker. Over time, these ice maker supply lines develop the smallest leaks and may cause ice maker water damage to our home when left unchecked.
Problem: Ice maker water supply lines can become brittle and leak often creating a hidden water damage problem.  An ice maker supply line made from inexpensive plastic clogs easily and is prone to leaks.
Facts:  Refrigerator leaks are the most common cause of leaks in the kitchen   15% of all home Ice maker water damage claims are from leaky refrigerators, with a leaky ice maker supply line being the main culprit.  Less common types of fridge leaks come from the base of the refrigerator.  This is often called a condensation leak and can indicate that your fridge may need replacement.
Solution:  Check your ice maker supply line for leaks or kinks on a regular basis.  Better yet, replace your plastic water line with a copper tee fitting, a high-quality shutoff, and a braided steel supply line. Braided steel is a sturdy, non-kinking substitute for flexible plastic or copper. When you purchase a refrigerator with an ice maker, your installer will attach an icemaker valve.  This is a tiny metal saddle attached to a cold water pipe (near the refrigerator or behind it).  Icemaker kits usually come with clear plastic water pipes attached to the valve and to the refrigerator's water inlet. This flexible plastic tubing is almost always the culprit. Pinholes on the tubing are often unnoticed during installation (and can remain unnoticed for years!). Over time, gallons of water that trickle from the tubing can lead to serious damage to your wall and floor systems.
Newer houses have a shut-off valve installed in wall panels located behind your refrigerator.  This is where soft copper tubing is used to connect the valve to the refrigerator.  While pinholes are still possible with copper tubing, the likelihood of this happening isn't as high as those for plastic tubes.
In addition to using copper tubes, you may also install a battery-operated floor alarm.  This nifty, inexpensive gadget alarms you when it detects water from a leak.  Use this for the kitchen, basement, and areas near water heaters, as well as other potential sources of water damage.
5 Ice Maker Water Damage Prevention Tips
The ice maker in your refrigerator is an important part of keeping drinks cold. But sometimes these machines fail, causing water damage that could cost thousands of dollars to repair. Here are 5 tips for preventing the ice maker from leaking water on the floor and elsewhere.
1. Check the Filter System Regularly
If you notice any leaks in the filter system, stop using the machine immediately. This will help prevent mold growth and other issues. Also, make sure the drain line is clear of debris.
2. Maintain the Unit Properly
Make sure the unit is cleaned regularly. Clean the ice maker with warm water and soap once a week. Remove the cover and clean out the ice bin. Check the drain line for blockages and remove them
3. Clean the Condenser Coil
If you notice any condensation inside the freezer, check the condenser coil first. It will need cleaning every year or two. To do so, turn off the power to the refrigerator, then open the door and disconnect the condenser coils. Turn the power back on and wait until the compressor stops running. Then, use a soft brush to clean the coils. Be careful not to touch the fan blades.
4. Replace the Filters as Needed
After cleaning the coils, replace the filters. This will help keep the air flowing through the system.
5. Inspect the Drain Line
If you notice any leaks, stop using the water immediately. A leaky drain line can cause water damage, mold growth, and other issues.
Conclusion:  The cheap plastic ice maker supply lines that come with most refrigerators eventually wear out and leak.  Often this water damage is hidden from view and over time can go from a tiny leak to very costly water damage to floors and walls.
Ice maker water damage can get nasty.  Oftentimes, homeowners don't even know how bad the damage is till it's too late.  Because the refrigerator blocks your view of the wall and connections behind it, it can be difficult to detect something is amiss until the tiny leak has created a visible puddle or has caused damage to the floor and surrounding areas.
Call Gold Coast Flood Restorations
For more information on mold remediation costs and insurance, contact Joe Colombo, a certified mold removal specialist in San Diego, CA, and the owner of Gold Coast Flood Restorations. Call 888-373-9243 or email us at info@goldcoastflood.com
Serving San Diego and San Diego County for over 30 years with quality work and great service. We also service these cities – Chula Vista, El Cajon, La Mesa, Spring Valley, and Lakeside. Poway, Ramona, Alpine, Santee, La Jolla, University City, Tierrasanta, Rancho Penasquitos, Rancho Bernardo, Rancho Santa Fe, Encinitas, Del Mar, Solana Beach, Leucadia, Sorrento Valley, Miramar, Mira Mesa, Scripps Ranch, Vista, Carlsbad, Bonita, Valley Center, Escondido, Fairbanks Ranch, Rancho San Diego 4S Ranch, Sabre Springs and Pine Valley.